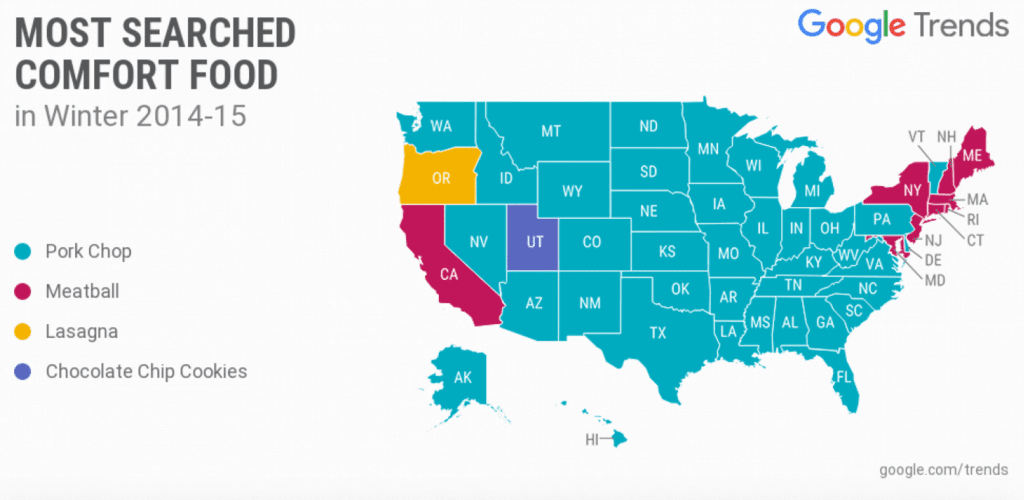 So this is interesting. We know the weather can influence the things we buy. Ice cream vans do a roaring trade on hot summer days, and umbrella sales are up when the rain is pouring down. As the map above shows, Americans reach for comfort food when the temperature dips. But there are other, more subtle, changes to our purchasing behaviour that are perhaps less obvious.
From the brilliant Wonkblog on the Washington Post:
Weather has long been a recognized influence on energy companies, food, airlines and retail. But these days, data tracking and predictive technology allow advertisers to determine the effects of weather on almost every product — including yogurt, hair products and quilting supplies. Marketers are also able to track and analyze tiny weather differences within a state or a county, down to the Zip code.

In one example, Michaels, a craft store, discovered that it could increase sales by running its ads ahead of rainy days, when its customers like to stay indoors and work on craft projects. In another example, Pantene Pro-V Smooth had success marketing its smoothing hair products in parts of the country with spiking humidity, and its volumizing products in drier locales.
Read the rest here.