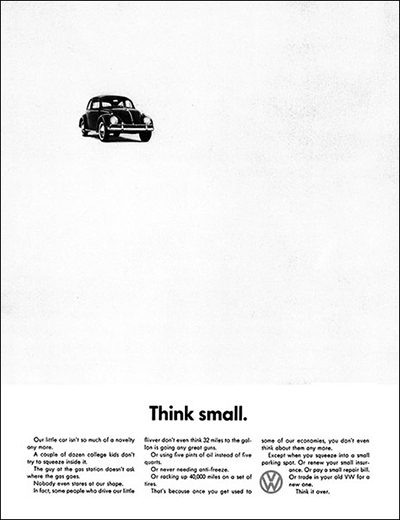 If you look back at some of the most memorable and successful advertising campaigns many of them have something surprising in common.
Rather than focus on the obvious benefits of the product they are trying to sell, they instead hone in on something that might usually be considered negative.
This counterintuitive approach takes some audacity to pull off, but time and again it has proven to cut through the noise and help brands stand out against competitors.
Volkswagen took this approach in the 1960s when they launched the Beetle in the United States.
Here was a car that was nothing like what American consumers typically looked for in a vehicle at the time.
It was tiny and awkward looking when compared to the sleek muscle cars that were popular at the time. It was even being made in factories commissioned by Adolf Hitler.
It was not an obvious hit.
Rather than shy away from how different this car was, the advertising agency (DDB) chose to run a campaign that addressed the doubters head-on.
"Think small," read the headline of the now iconic campaign, above which was almost entirely empty white space except for a tiny picture of a Beetle.
The ad copy went on to list all the reasons why a small car like the Beetle might not be such a bad idea after all – from the improved fuel economy and convenience of parking in tight spaces to the lower insurance premiums and repair bills.
Guinness took a similar approach when they decided to make a feature out of the fact that it was one drink you had to hang around for at the bar when every other pint was ready.
"Good things come to those that wait," the brand announced in a long-running campaign that made a feature out of what might otherwise be considered a disadvantage.
When Stella Artois launched in the UK market it was both stronger and more costly than other beers found on tap at the time. So how did they frame it? "Reassuringly expensive."
The marketers at Marmite have taken this to its logical conclusion by highlighting the fact that a good proportion of people do not like it. That seems crazy until you remember that the rest of the population will proclaim their fondness for it all the more as a result.