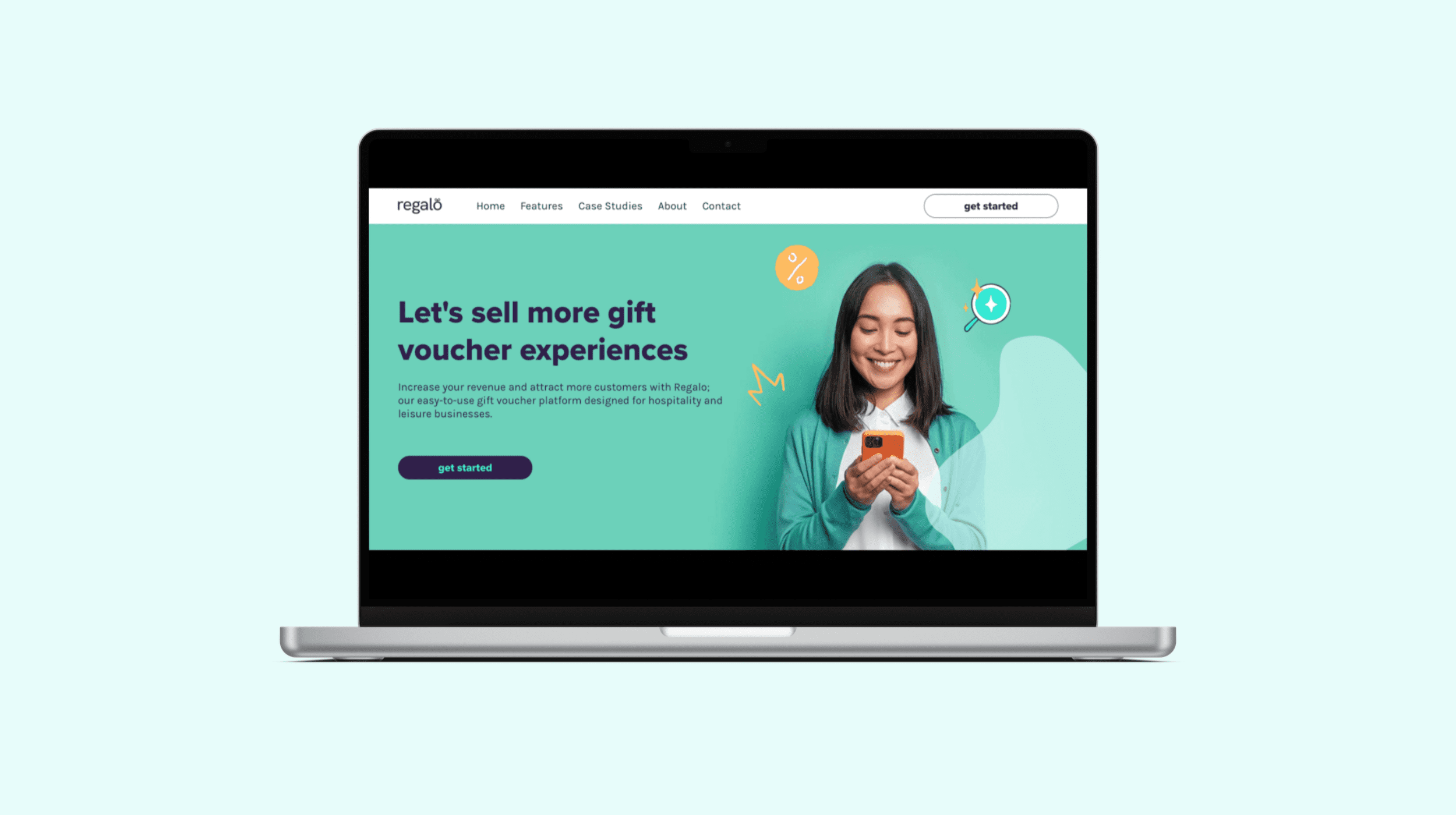 Gift vouchers are one of the best forms of marketing. There's no higher compliment than a customer enjoying your service so much that they gift the experience to someone else. Buying a voucher goes beyond making a simple recommendation; it tells the recipient that your service is so good that someone else will pay for them to have the opportunity to enjoy it. It also means greater footfall, sales and loyalty to your hospitality and leisure business. 
Regalo is an all-in-one gift voucher platform that makes it easy to create, manage, promote and sell gift vouchers online. Established in 2017 by the multi-award-winning team at Hotfoot Design, Regalo boosts sales and increases customer loyalty for a range of hospitality and leisure businesses, from Michelin-star restaurants and spas, to breweries and gift shops. 
We've recently undergone an exciting brand refresh, launching an updated website that shows off what Regalo is all about. An easy-to-use interface, glowing case studies and fantastic features page shows our partners what they can expect from Regalo – hassle-free, smooth sailing from set-up to sale. 
Gift vouchers provide an unmissable revenue stream. And bringing voucher experiences to your website doesn't need to be complicated. Regalo is jam-packed with features that make it easy for you to sell packages, experiences and monetary vouchers in one customisable platform. Getting started is simple. 
We'll create a bespoke branded store that visually links seamlessly with your own website. 
Customers can select a gift, add an upgrade and write a personalised message for the recipient, choosing to have the voucher delivered immediately by email or sent out by post. You'll be paid instantly when customers buy your gift vouchers, making it a fuss-free process for everyone involved. We also offer marketing and design support to increase sales and grow your business.
Businesses using our Regalo gift voucher platform have seen excellent results. But don't just take our word for it. Here are some wonderful testimonials from our clients using Regalo… 
"The voucher platform has introduced a completely new online presence to our bricks and mortar retail business, offering customers the opportunity to shop with us online. We have had so many positive comments about the online ordering platform from our customers who say it is so straightforward and easy to use. It is a pleasure to work alongside the Regalo team, we have always felt well advised and supported by them, and we would strongly recommend them to other businesses." Jane Richardson, Managing Director at Arteria with Gallery 23 

"The Regalo team works closely across our group to drive new custom and increase loyalty and repeat visits. They are passionate and committed." Phil Simpson, Director at Lancaster Brewery

"We see an excellent return on our business…The venue admin portal is also user friendly and easy to use, allowing us to change, add or delete vouchers with an image and also view data, reviews and run reports. The payment integration with Stripe is also easy to set up." Marie-Louisa Raeburn, Marketing Director at The Askham Collection