Cartography is an expensive business. Mapmakers must invest huge resources into surveying the land and meticulously marking anything that might be useful to their audience.
Today satellite imaging is used, before that aerial photography, and before that rain-soaked men and women stood in fields with tripods, compasses, telescopes and other cumbersome tools.
Only after undertaking this mammoth task, and publishing the results, can a mapmaker hope to recoup their investment.
So it is understandable they have always sought to protect their efforts from competitors who might publish the work as their own.
One method mapmakers use is quite ingenious: they add small deliberate errors, known as copyright traps.
There are said to be around 100 "trap streets" in the current London A-Z. This includes a walkway called Bartlett Place – named after Kieran Bartlett, a sales manager at the publisher.
This is thought to be the explanation for why a place named Argleton appeared on Google Maps and Google Earth in an empty field off the A59 in West Lancashire.
After being spotted by a local in 2008, and featured by BBC News, Argleton vanished just as mysteriously as it had appeared.
But my favourite story about copyright traps comes courtesy of the brilliant podcast, 99% Invisible.
They recently told of how the General Drafting Company published a map in the 1930s with a fake town in upstate New York named Agloe, created by jumbling the initials of two people at the company, Otto G. Lindberg and Ernest Alpers.
A few years went by and then another map of New York State was published by a rival company named Rand McNally. And there on the new map was Agloe, in exactly the same location.
The General Drafting Company were certain they had caught a copycat red-handed, and prepared to take their competitor to court, but Rand McNally insisted the accusations were false.
To settle matters employees from both companies drove up to the location. And there they found a road, a couple of houses, and the Agloe General Store.
It turns out people had decided to settle there and looked up the name on a map.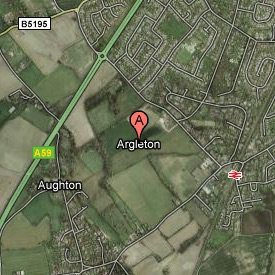 This story originally appeared in the Lancaster Guardian where I write a weekly column.