Many of us now have a Nest or Hive smart thermometer in our home, that learns our daily routine and knows to turn up the heating just before we walk through the door.
There are smart door bells that welcome visitors, and smart lights to dissuade burglars.
Millions of smart speakers powered by Amazon and Google have been sold around the world to answer our questions, order our shopping, and remind us of our appointments.
Smart cameras keep a watchful eye over it all.
But the concept of the smart home is not new.
Way back in 1950, Popular Mechanics magazine featured an article about a somewhat eccentric inventor called Emil Mathias and the house he built in Jackson, Michigan, that became known as Push-Button Manor.
"To the casual visitor, the Mathias house looks no different from any other comfortable American home until Mathias touches a switch and things begin to happen! Everything is hidden away between floor joists or walls. There are no dangling wires. You wouldn't suspect the presence of scores of mechanical servants that await your command," the article breathlessly explained.
"But just step into the nerve centre of the system, a closet in Mathias' bedroom, and you realise that this house is unlike any you've ever seen! The walls of the closet are lined with paraphernalia. Switches, relays, clocks that turn on things, clocks that turn off things, thermostats, transformers, rectifiers, yards of wire connecting everything to something else!"
In Push-Button Manor the curtains closed by remote control and the windows shut automatically when it rained. The radio turned on in the morning and the doors locked at night. Sitting at a dresser and opening the centre drawer a fraction of an inch made twin lamps either side magically switch on.
An archetypal tinkerer, Mathias' interest in making custom devices began in his childhood when he created a wind-powered coffee grinder.
As he showed the journalist around his home Mathias apologised that many of his inventions were incomplete, before he outlined his plans for an automatic lawn sprinkler and a mechanical waiter for parties.
"Push-Button Manor will never be quite finished," the article concludes.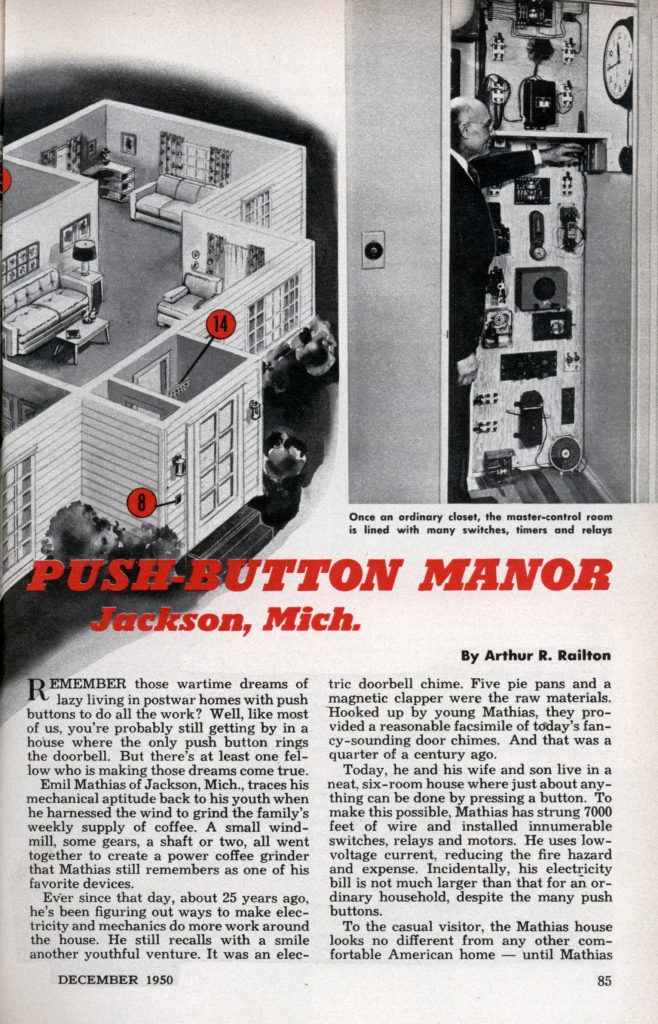 This article was also published as part of a weekly column in the Lancashire Post, Lancaster Guardian and Blackpool Gazette.