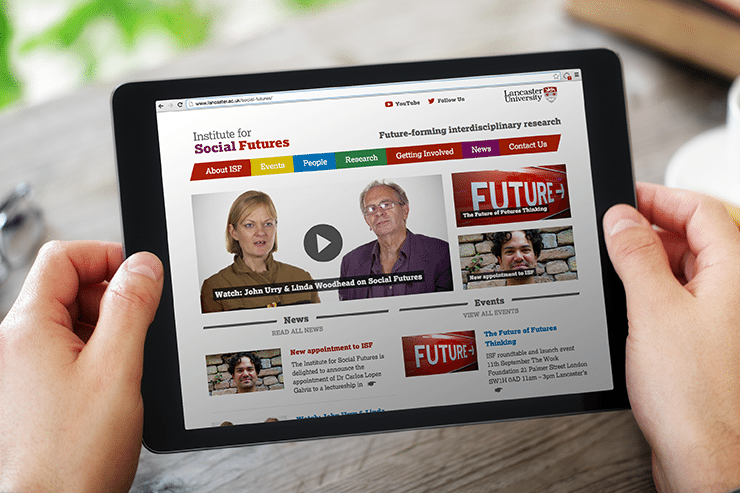 We're really proud of a project we've just completed for Lancaster University. Below is an overview of what the work entailed, with a lovely bit of a client feedback at the end. You can see the live responsive website here.
Background
Lancaster University contacted us as they were establishing a new Research Institute, the Institute for Social Futures (ISF), and this required a responsive website to work across all devices (desktop, tablet and mobile) and brief (1-2 minute) explanatory video for the homepage. We work with a number of trusted partners, one of which is a company called Morph, with whom we share an office in the centre of Lancaster. Morph specialises in video production, so they undertook this aspect of the project. We subsequently designed a brochure too.
Communications objectives
The University required the development and build of a WordPress powered website for the ISF, to be hosted by the University, along with production of a simple 1-2 minute video featuring the Institute co-directors explaining the aims of the institute. The purpose of the website is to host information related to the institute and its academic staff in a clear and easily navigable fashion, and effectively generate engagement, interest and future research projects.
The task
The University needed us to deliver a website, to their specifications, which upon completion would be transferred and hosted under the Lancaster University domain, along with a simple video, featuring the co-directors, for the homepage. The website brief included a requirement for six distinct sections: About / Events / People / Research / Getting Involved / Contact. The homepage features news, forthcoming events, etc., and a dynamic carousel.
The audience
The purpose of the website is to communicate with high-calibre academics and researchers to attract them to work in and alongside the institute in the first instance. More long-term, the website is required to effectively communicate the achievements and outputs of the institute to impact a wider public audience and generate future investment.
Audience reaction
The audience needs to apprehend quite quickly the aims of the ISF, to feel like they understand its distinctive academic approach and ethos, and to want to be involved and follow the work of the institute.
Tone and manner
The tone of the work is designed to reflect the earnestness of the academic approach of the ISF, but also a sense of excitement and ambition for the future activities of this new institute.
Channels
Channels used to promote the site include organic search, initial employment/engagement opportunities signposted elsewhere, social media and via the Lancaster University website.
Client feedback
"Hotfoot have been excellent to work with in the design, development and delivery of the Institute's website; they're passionate and knowledgeable about their work, and have provided an invaluable level of support, expertise and attention to the project."
– Simon Reader, Project Manager