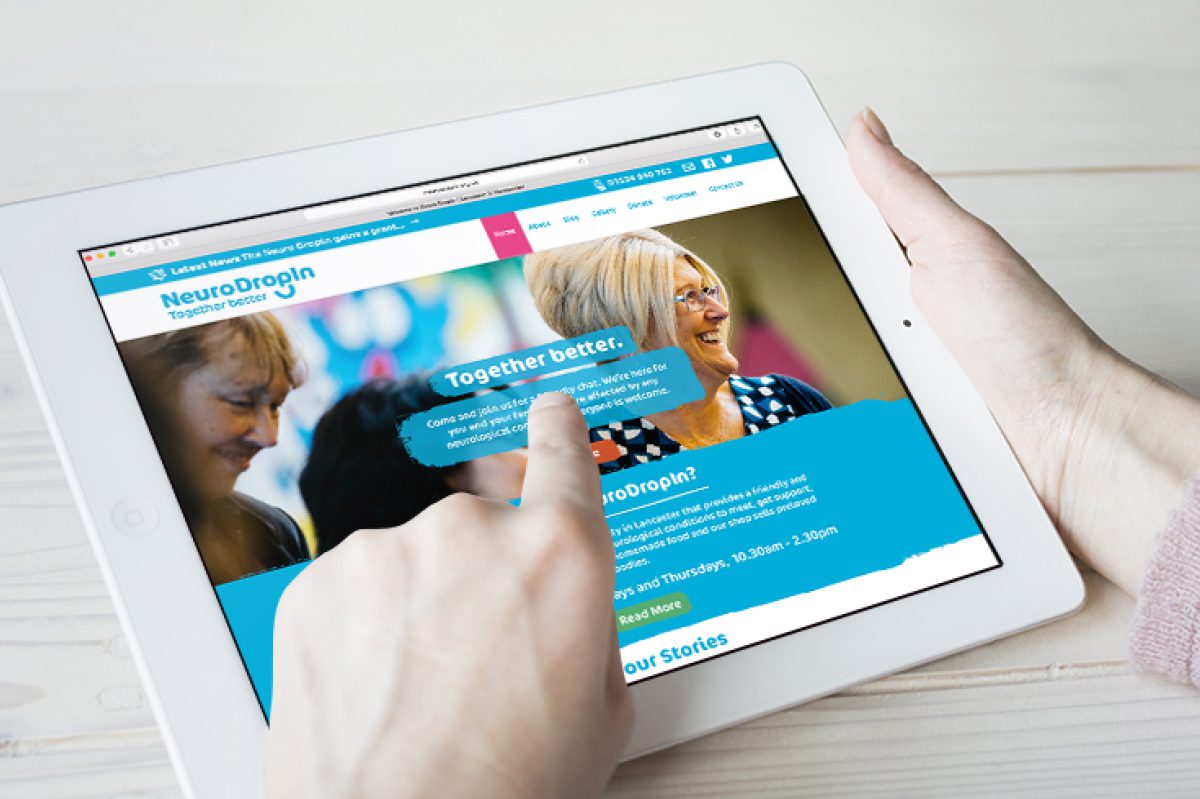 We issued a press release this week about our work with Sharon Jackson and the wonderful team at Neuro Dropin. You can read it below, and see more of our work for this important charity here.
An award-winning Lancaster based charity that supports people affected by neurological conditions and their families has launched its brand new website www.neurodropin.org.uk

Neuro Dropin, a community drop in centre based on the Lancaster Farms estate, has launched its new responsive website – designed by Hotfoot as part of ongoing pro bono work for the charity – to help encourage more visitors, especially people who are newly diagnosed, to use the centre and its facilities.

The new website also aims to provide a useful resource for existing users to find out about all the events and classes at the centre, encourage donations and fundraising for Neuro Dropin – on which the charity is entirely dependent – and inspire people to volunteer their services.

Neuro Dropin provides a friendly place for people affected by a range of neurological conditions and their families to meet others that may have the same or similar conditions, get support and relax. The charity offers many classes and groups, including yoga, physio and book groups, provides free wifi and has a café, shop and children's play area on site.

Neuro Dropin Founder and Director Sharon Jackson said: "We are delighted with our new website that's been designed and constructed by our amazing sponsors Hotfoot – it's the perfect showcase for our fabulous Neuro Dropin centre.

"We're hoping this new site will give people the confidence to come to Neuro Dropin for the first time. When people are newly diagnosed, they're often unsure about what the future holds and can become isolated, which is where we can help. We're a friendly place and we're ready and waiting to welcome everyone affected by a neurological condition."

Hotfoot's Creative Director Charlie Haywood said: "Neuro Dropin is an incredibly happy, vibrant and welcoming centre, which is testament to Sharon's inspirational leadership, and we think this is now communicated beautifully via its website. We're incredibly happy to continue to support such an important local cause – we recently created Neuro Dropin's new brand identity, undertake some of its design work and support its fundraising – and have seen first-hand the positive impact they make in people's lives."

Neuro Dropin is completely reliant on the generosity and support of local people, business and community groups who give their time and money to help run the charity. Individuals and businesses can make a single or regular donation, or find out more about volunteering or fundraising for Neuro Dropin via the website www.neurodropin.org.uk/donations.