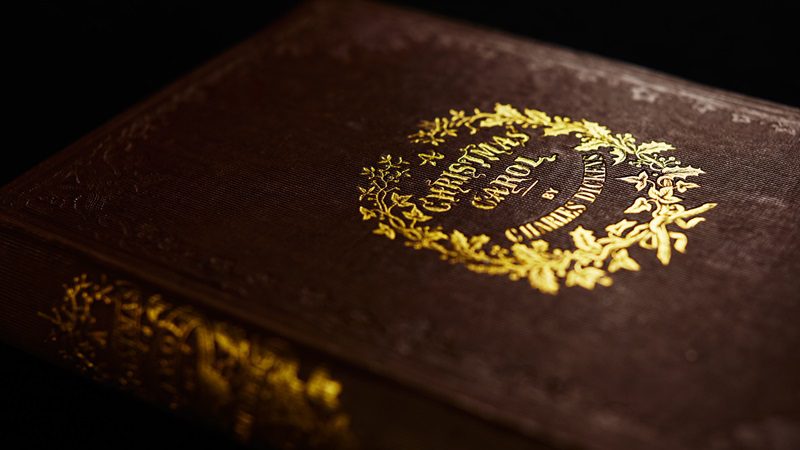 When Charles Dickens first published A Christmas Carol in 1843 he was 31 and was already a successful writer.
The story immediately caught the public imagination and all 6,000 copies of the first edition of the book sold out almost immediately.
Dickens oversaw the book design personally, which included four hand coloured etchings and four wood engravings by the artist John Leech, as well as gilded pages and a beautiful red cloth cover.
It looked stunning, but it was not a commercial success for Dickens. Each copy sold made such a tiny profit Scrooge would have been appalled.
In 1983 Manchester's Factory Records released Blue Monday / The Beach by New Order. The sleeve was designed by Peter Saville and featured a cut-out shape in the form of a floppy disk, which at the time represented the future.
The record became the best-selling 12-inch of all time. There was just one problem. Every copy sold made a 5p loss.
Getting the balance right between something that has great artistic merit and something that is commercially successful is difficult.
The same issue is at play today when developing websites. Despite the great leaps forward in bandwidth and optimisation, there is often still a trade-off to be found between creativity, functionality and performance.
This often comes into sharp focus around the issue of speed. In an ideal world a website will load faster than the blink of an eye. We humans can perceive milliseconds. And as a species we really do not like waiting.
But we also like to be entertained. We appreciate beautiful things. We love video, rich media and gorgeous graphics.
The fastest website in the world would be text-only. Just as Blue Monday could have been sold as a sleeveless flexi disc, and A Christmas Carol could have been sold as a pamphlet. But where is the joy in that?
The brilliant designer Saul Bass once said, "I want to make beautiful things, even if nobody cares."
The founder of Factory Records, Tony Wilson, once remarked, "You either make money, or you make history."
I would posit that you can do both.
---
A version of this article was published as part of a weekly column by Guy Cookson on marketing, design, trends and strategy in the Lancaster Guardian, Blackpool Gazette, Lancashire Post and other titles. See our brand, web design and marketing recent projects.